Firstly, apology time. Sorry I've been a bit absent recently. I've been a bit ill for the last couple of weeks and it's stopped me from wanting to do anything, including any sewing or blogging. Good news (or bad news, depending on how you look at it
) is that I'm all better now and have lots of new energy to spend on sewing projects!
This one is actually a bit old – I made these trousers before my holiday with my family. In fact I was so desperate to give them a go I made these the night before we left. I used the Burda pattern 117, 05/2013, you might remember that this was from my first burdamagazine.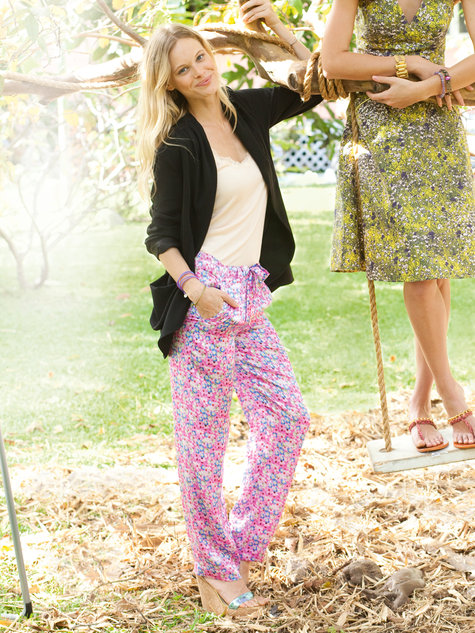 Cute and easy right? And patterned trousers seem to be mighty fashionable at the moment, check out these gorgeous pairs:
There have also been some awesome versions of patterned trousers within the sewing community which have also been making me salivate! Massive kudos to Amy for this amazing pair of patterned trousers, and I love Reana Louise's version.
Basically, it was about time I gave trousers a go. I've been really scared about making a pair though, as I know I have a bizarre body shape when it comes to my bottom half. Therefore, my solution was to start easy! These must be the easiest trousers to make! No tricky fastenings, just an easy drawstring.

I chose this cute fabric which is a kind of bronze colour with lots of tiny irregularly shaped spots all over it. It's awesome, which probably means I should have saved it…
I made the same mistake that I've made several times with burda patterns -I didn't add seam allowances. I can't believe I did it again, but I was confused by the fact that the pieces you have to draft yourself include seam allowances, but not the rest of the pattern pieces! Surely that's just meant to trip you up? Anyway, this meant that I had  to make do with tiny (weak) seam allowances.

Sadly, as you might be able to tell, these trousers do not fit perfectly. I think this is partly due to the fact that I had to make them smaller in order to have seam allowances. However, mostly I think it's because I've got a little too much junk in my trunk! While they're not indecent, being tight across my behind doesn't really go with the loose style of the rest of the trousers… Plus the fact that they are HUGE around my waist makes them pretty unwearable.
So, although I think the fabric is ace, these trousers will never be seen in public
but I'm OK with that. Now I know for next time that I need to add some extra space in the back
I'm slowly working my way up to a proper pair of trousers!
What were your first pair of trousers like?