I have been wanting to make a Lola dress by victory patterns since I first saw it. Its such a gorgeous, stylish, yet comfy dress. It was love at first sight, and yet I've never managed to get round to making it. I think I've just never found the right fabric to feel inspired enough. But seeing Tilly's post the other day reminded me that I really did need to get on and make this!

But, I still needed to feel inspired by some fabric!I currently have a project on the go involving stretch (faux) leather. Looking at the leather sitting on the side of my room I had a sudden flash of inspiration! Leather accents on clothes are everywhere right now, and have been for a while, so why not add my stretch leather to the lola dress????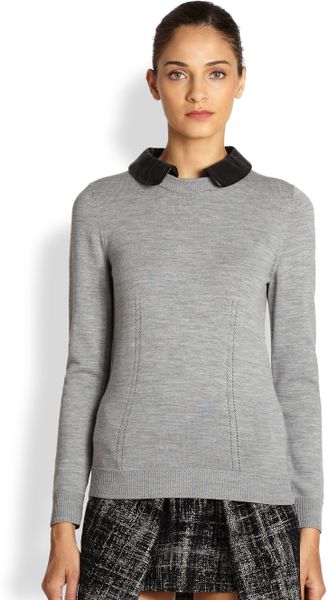 That decided, I had to make it RIGHT NOW, despite having about three other makes planned… I even stole the ponte jersey planned for the other make (it wouldn't have been right anyway…).

Luckily the pattern is super easy to sew up and only took me an afternoon. I found the instructions very easy to follow, and the sewing is pretty self-explanatory. The only thing I struggled with was the little triangle that's below the neckband. How did other people deal with this pesky triangle??? The instructions ask you to overlock the edges of the triangle before you sew it to the dress. Seeing as I don't have an overlocker I thought I'd try zig-zagging it. But whenever I tried this with my sewing machine it proceeded to eat the triangle…about four times! I thought perhaps I needed a new needle, but this is a knit fabric so I thought the sharpness of the needle doesn't matter? In the end I decided to just sew the damn thing onto the dress without zig-zagging it first. To make up for the not-so-neat sewing I sewed tight zig-zag stitches over and over again. In the end I think I've managed to make it look passable, but I know I could do a better job if I tried again.

I really like this dress, it's pretty much exactly what I was expecting it to look like. I added an inch to the length for my height, but still kept it quite short – I think this dress would look a bit odd if it were long. Annoyingly I think the faux leather does look particularly faux, and therefore a bit crinkly, but then I'm not sure I want to spend a lot of money on real stretch leather for a dress that will probably only last a season…

For now it's a perfect day dress for slobbing out in or wearing to uni.  I now need to re-buy grey ponte and more stretch leather (possibly the real stuff this time?), but it was so worth it!